I BIO
II DATES
III RELEASES
IIII CHARTS
IIIII Clubs
IIIIII DOWNLOADS
IIIIIII CONTACT

NAME:

Franklin De Costa


aka:

R-Type, Tichy


member of:

Studiogemeinschaft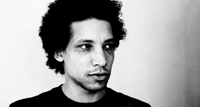 booking contact

[ GO ]
Franklin's early musical roots began with a Taiwan Drumset and a Hohner Organ. After some training years under the influence of metal, jazz, 70s prog/rock and live perfomances as a versatile drummer his transition to electronic music began with an Amiga 500 computer.

The Trackermusic of this machine lead him to the early techno music of the 90s and early production experiments in his Father's home studio. First releases followed in 1995 to 96 on the label Fusion Records (w/ 303 Nation Member, Patrick Vauillaume). Later he released as Tichy on various Frankfurt techno labels until at the end of the 90s his search for inspiration brought him to a very experimental production phase without the "4 to the floor" presetting. From this he developed his distinctive trademark sound with straight grooves and frisky sound design.

With the concentration on DJing and party organising Franklin began the extroverted phase of the studio nerd. In 2003 he started working with Yapacc and founded the Studiogemeinschaft project. Along with the infamous Frankfurt DJs Bo Irion and Miriam Schulte they started "The Green Empire" events and internet community.

Meanwhile Franklin was gaining more international recognition with releases on well-known labels such as Trapez ltd, Karmarouge Noir, Einmaleins Musik and Treibstoff. His singles entered the charts of the german groove magazine, german dance charts and the charts of djs worldwide.

In 2007 he released with Yapacc together the first Green Empire Release. Expect for 2008 some new music on Leena, Resopal Red, Below and Curle.