I
BIO
II

CLUBS
I

II

DATES
I

II

I

RELEASES
I

II

I

I

DOWNLOADS
IIIIII
CONTACT
name:
Uwe Giegler

Associated with :
Studiogemeinschaft
Narcotic Syntax
Helden der Revolution
Elektrasmus
Betti Synclar
Good Groove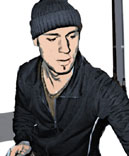 [ deutsch ]

"Age 14 I bought my first analog synth: a Korg MS-20. Nobody had something like that in school, neither was hardly anybody around interested in electronic music. I scrammed in my room to build my first tracks on the Revox A77, using the Korg, a Roland organ and a Rattlesnake rhythm machine, track by track and mono - a fantastic, lonely periode. Seven years before I played the piano, thus belong to the few who lived through minimalism at an early stage, for I played the same patterns over and over again for hours... "

yapacc founded the project Elektrasmus with Holger Schmidt and launched the 'Weisskirchener Electronic Festival'. After having taken extensive live and studio session excursions, they finally signed to Maelstrom Records in 1997. In the same year Elektrasmus was one of the Techno acts to pioneer internet live streaming (at 'Dokumenta X', Kassel/D). They signed to Maelstrom Records in 1997. A release on Poets Club Recording ("Inside 02" w/Brian Eno, Peter Schwalm, Funkstoerung, Shantel, among others) followed in 1998 using the psydonym "the dragonfly".

yapacc started a net art label in 1999 and produced film scores for expressionistic silent movie classics, three CDs are released.

In 2001 he founded Voiceheads together with Juergen Klumpe a duo interweaving guitar drones and textures with vocoded voice, blending Downbeat Techno structures with Hippiespace Psychedelics on a high intensity level.

During that time yapacc met Dr. Walker of Air Liquide with whom he cultivates a steady friendship and production team with any releases until today (Helden der Revolution).

Yapacc become a steady member of James Dean Brown's notorious Narcotic Syntax on the popular Perlon label. Both had many releases on Perlon and the Cologne based We in Rhythm (WIR) Label. They did a Japan tour in 2007, where the double ep "Provocative Percussion" (WIR005) was heavy succesful. A Album is planned very soon.

He also syndicated Studiogemeinschaft (trapez ltd, Treibstoff, Multicolor) with the inspirational Franklin de Costa to create their own sound descripted as "superfunkyabstracthouse". The ep "Want 2 Shake with You" (Treib 65) chartered the groove Charts and got best reviews! Based in Berlin they started the label Green Empire. The Green Empire is a collaboration with the djs Miriam Schulte and Bo Irion to have common partys and radio shows . The ep Morgenlast/Atemlos (GRE000) was their first release in summer 2007.

The amicable climate between Good Groove, one of Germany's DJ institutions, and yapacc after having met in summer 2005 is reflected in common music productions on multiColor Recordings and Tresor. They did remixes for Pascal Feos, Ricardo Villalobos, Alka Rex and 2Raumwohnung.



In January 2006, yapacc released his first solo EP "Floating" (three represses!) on Neuton Music (neum 20), which has received rave reviews. His next solo release "Boutique Minimal" (neum 27, heavy played by ricarcdo villalobos!) introduced the Swiss poetry artist Betti Synclar (voc, lyr). "take this way" in collaboration with holger schmidt on sender records (sender 067) chartered into Groove Charts Rank 14! We expected new eps on neuton music and sender in 2007, an album (Nirwana Beach) will be available in winter 2008.

about his studio technique
"i work like a band. a lot of instruments like guitars, bass, synths, organs and effect units give me the inspiration to play. then i create tracks on my harddisk system. maybe ideas for more than thousend years, thats the misery..."

about his live technique
"I have a hybrid working method, using computer programs, analog synths, live keyboards, also guitar and microphone. An interactive visual show including self-shot clips, pics and a live video camera shall entrap and seduce the audience further